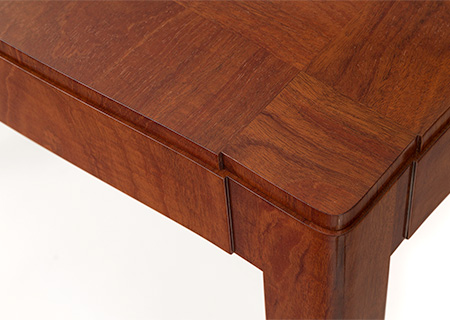 Veneer has been found in 2000 year-old Egyptian tombs. Our wood veneer room contains an unparalleled collection of exotic and vintage woods. Each is a history of its parent log, revealing luster, age, and unique patterns. All of our veneered creations are protected with a durable finish that protects and brings out the beauty of natural grain patterns.
Protect from extensive sun exposure which will cause the wood color to oxidize.
Protect from dry heat which will cause the wood to contract, crack and damage the finish.
Use a dry clean cloth to wipe away dust.
Wood surfaces can be cleaned with mild soapy water, avoid rubbing as this can buff the finish and affect the sheen.
Avoid application of any cleaning agent containing silicone.
Recommended relative humidity range of 30% – 60%.
Recommended temperature range of 55° – 80°.