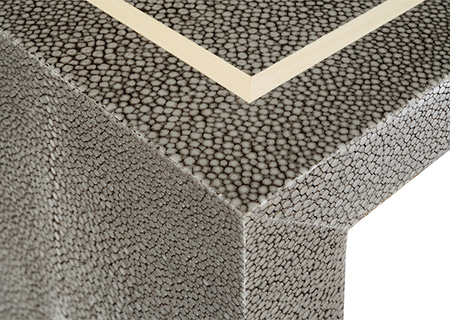 For centuries, shagreen, this pebbly stingray skin covered sword and dagger handles in Japan, and 18th century French furniture. At Atelier Viollet, we endlessly experiment with this enamel-hard skin. Often sanding it to highlight its natural patterns. We've transformed furniture and even entire interiors with this naturally enduring and versatile gift from the ocean.
Exposure to liquid may cause delamination & permanent staining of the skin.
Protect from extensive sun exposure, which will cause the color to fade and possible skin contraction.
Use a dry clean cloth to wipe away dust.
Avoid application of any cleaning agent.
Recommended relative humidity range of 30% – 60%.
Recommended temperature range of 55° – 80°.