Like any true artist, Jean-Paul Viollet has a deep respect for the materials he uses. When he speaks of parchment and palmwood, his eyes light up. And, in the case of stingray skin"better known as shagreen"for his shagreen furniture, the reverence practically leaps from his tongue. The pebbled veneer has a regal history. It adorns the lustrous artifacts hidden in the 2000-year-old tombs of Egyptian pharaohs. It's been found on the hilts of samurai swords and the toe caps of shoes worn by the Duke of Windsor. In the 1930s, the Aga Kahn had it installed in the interior of his Rolls Royce.
But King Louis XIV of France gets most of the credit for making it chic. Back in the 18th century, his mistress Madame de Pompadour, a prolific patron of the arts, was crazy about the stuff. After she turned her friends onto its many virtues, shagreen turned up on snuff boxes, humidors, and opera glasses all across Europe.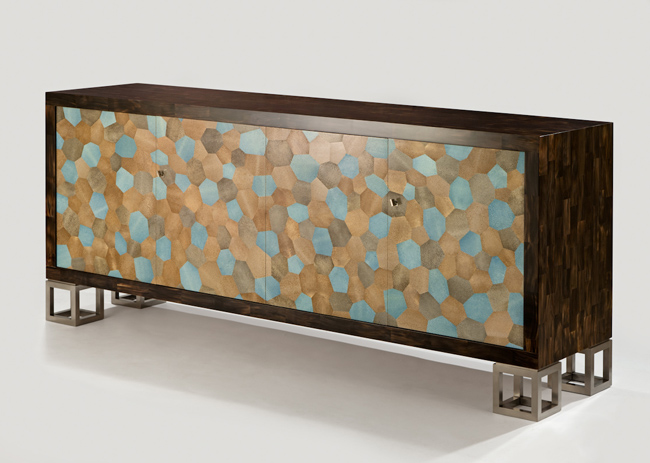 Between World War I and World War II, the masters of the Art Deco movement"guys like Jean-Michel Frank and Jacques Emile Ruhlmann"gave the material another boost, dazzling connoisseurs worldwide with their shagreen-covered chairs, cabinets, and tabletops. Inspired by those luminous works, Jean-Paul Viollet decided to learn how to incorporate shagreen in his own designs. "It's an amazing material," he says, "one of my favorites."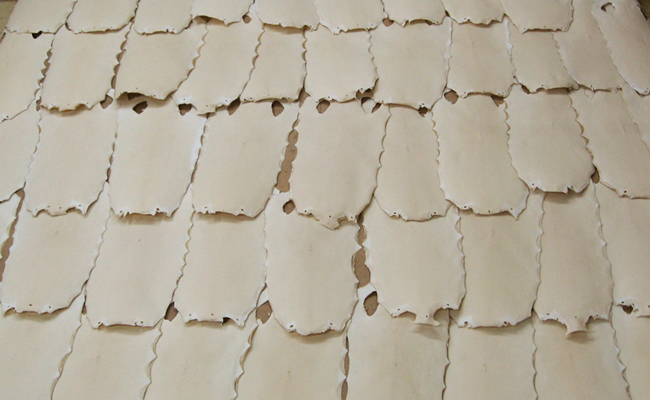 Beyond its natural beauty, shagreen is prized for its durability. In the days of antiquity, it was actually used by sailors as sandpaper. Before Viollet could begin to master the material, however, he first had to find it. Given its long, illustrious history, you'd think that this would be a simple task, particularly in New York City, where you can buy almost anything.
But Viollet did not even know how to identify what he was looking for. In his native France, shark and stingray skin is called galuchat, in honor of the famed artisan Jean-Claude Galluchat, who supplied many of the baubles in Madame de Pompadour's collection. The English term is an offshoot of the Turkish sagri.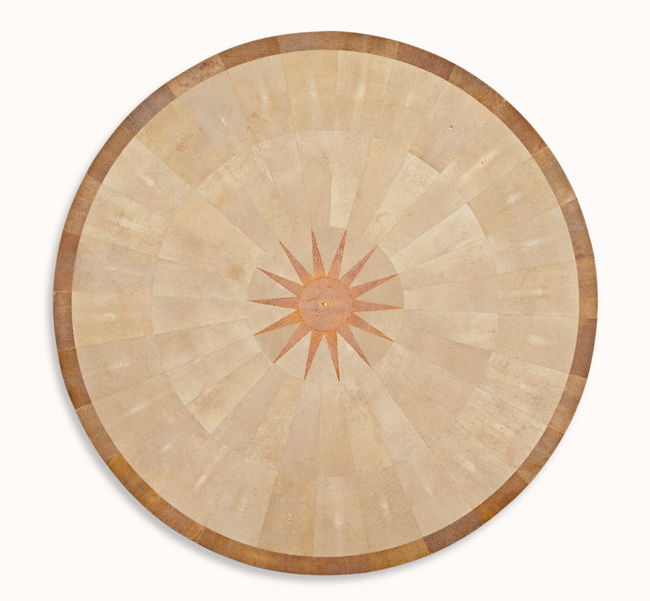 Even after he learned what to ask for, Viollet spent many months canvassing the leather stores in Manhattan, Brooklyn, and Queens. When at last he was able to purchase a sample, he had to teach himself how to use it. There were no books or courses that explained the process. So, much like the Berlin-born artist Karl Springer, who brought shagreen back into vogue in America in the 1970s, Viollet experimented day after day with various dyes and adhesives. In the end, he developed a deep appreciation for the curvaceous chiffonier designed by André Groult for the 1925 Exposition Des Arts Décoratifs.
"To do a bombe surface in shagreen, you have to be pretty good," Viollet says. "It's one thing to lay something flat, but bombe? For that, you have to wake up early."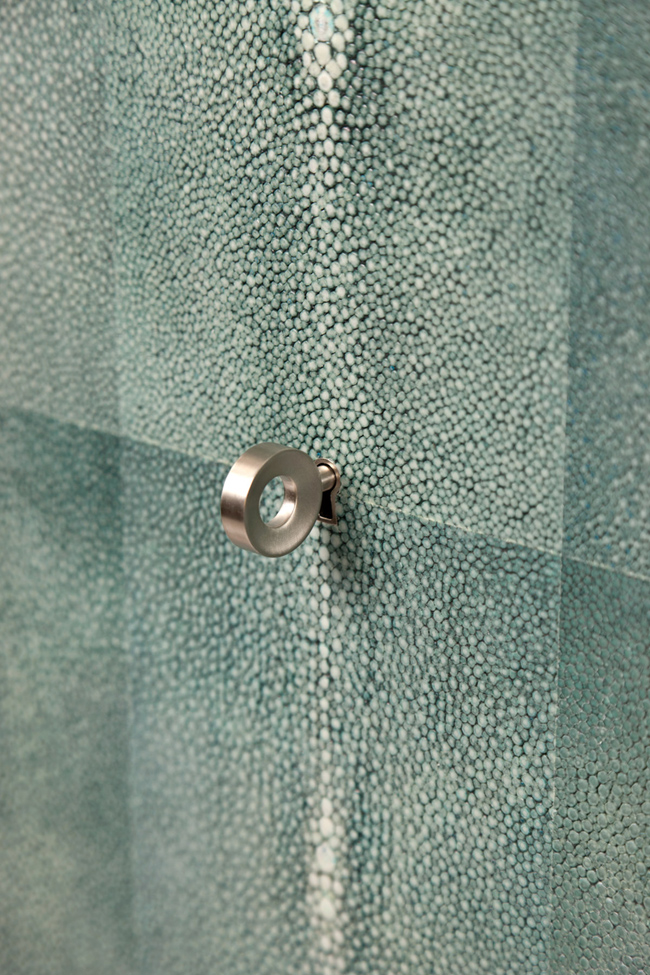 These days, you will find shagreen on many of the sideboards, tables, and cabinets in the Atelier Viollet showroom. The skins come from stingrays raised on sustainable farms in Asia. A single piece of furniture may require dozens of skins"all evenly matched in tone. If the skins are not carefully selected, there's a good chance they won't look the same when dyed. Imagine having to purchase dozens of grapefruits that appear alike. For Viollet, the job is not something you take lightly. "I hate to waste materials," he says. "You should not take nature for granted."
Once the shagreen has been selected and dyed, it's sanded to give it the Atelier Viollet luster. "The idea is to do a very, very fine sanding," says Viollet. "Then it becomes very sensuous. Very soft-looking and a bit reflective."
You might even say, fit for a king.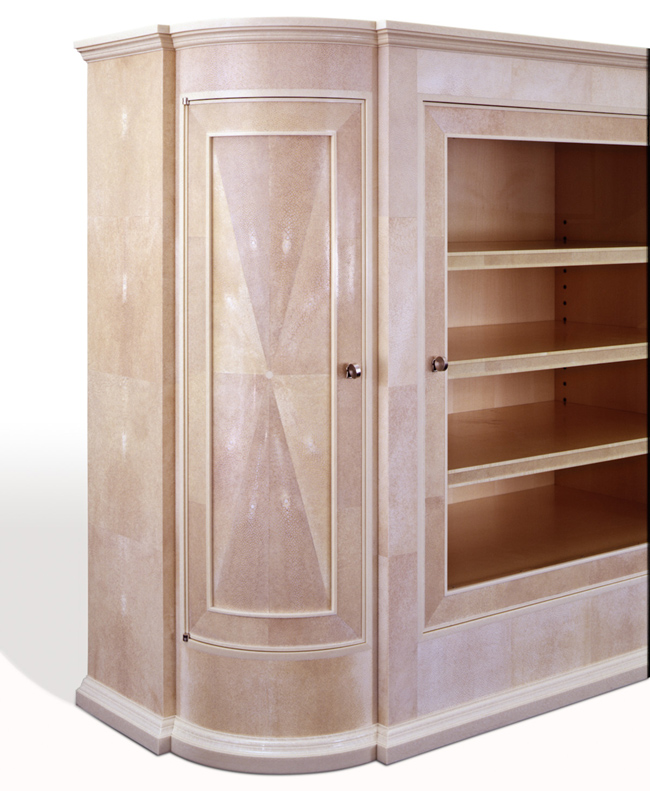 Of course, in the years since Jean-Paul Viollet took up the craft, shagreen has experienced yet another renaissance, popping up on Louis Vuitton handbags, an Hermés cigarette case, Ralph Lauren picture frames, and, yes, Manolo Blahnik shoes. You no longer need to own a throne to have it in your own home.