Jean-Paul Viollet has spent a lifetime mastering Art Deco design. All that labor is clearly reflected in his Brooklyn furniture showroom.
"I was very intrigued by the beauty of the materials used in the Art Deco period," says Jean-Paul Viollet, the industrious founder of famed Brooklyn furniture maker Atelier Viollet. "I was very impressed by the design." One look at the exquisitely crafted pieces in his showroom and that is abundantly clear. Given the man's roots, you might even say that there's a natural connection at play, an affinity born in the Viollet DNA. But, truth be told, it wasn't until Viollet moved to the United States from France in the early 1980s that he developed his love for Art Deco design.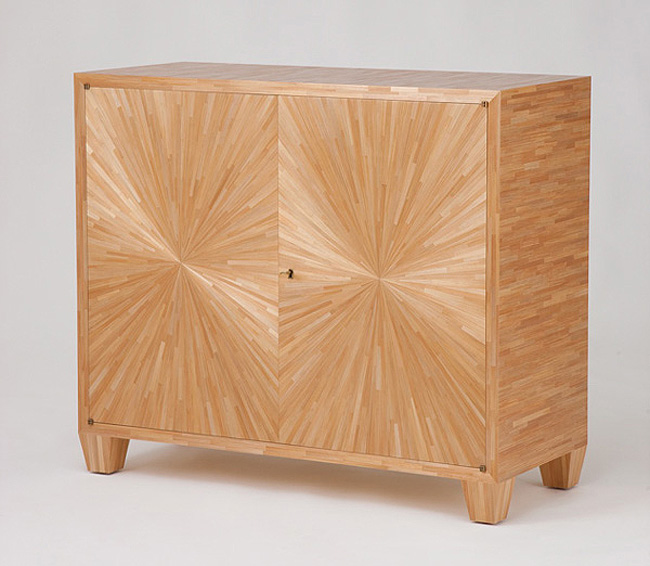 Above: J. M. Frank Inspired Cabinet in Straw
In the museums and galleries of New York City, he got to study the movement's masterpieces up close. What he found was "very daring, very innovative" works of art that featured a wide selection of wondrous materials, rich treasures from around the world. Macassar ebony, palmwood, ivory, mica, vellum and tortoise shell. He admired the furniture of André Groult and Eugene Printz in particular, but what truly inspired him was the work of the French masters Jacques-Emile Ruhlmann and Jean-Michel Frank.
Ruhlmann's elegant and exacting designs were all the rage at the 1925 Paris exhibition that gave the movement its name: the Exposition internationale des arts décoratifs et industriels modernes. A sweeping showcase for the city's finest artisans, the audacious undertaking placed France at the forefront of furniture design for the next two decades.
Frank? Well, among other glowing achievements, he's credited with creating the Parsons table. But it was the purity of his lines and his mastery of the many exotic materials embraced by the movement " everything from pebbled stingray skin to straw marquetry " that caught Viollet's fancy. He was determined to take up those skills himself.
At the time, this was far easier said than done. There were no books that explained how to use those materials. There weren't even convenient places to buy them. And so, it was not uncommon to find Jean-Paul Viollet out wandering the streets of Manhattan's garment district or hunting through the specialty shops at the tip of the island. "There was a lot of going from one leather store to another, trying to explain what I was looking for," he says. "At that time, there was no Internet, so everything was done with the Yellow Pages. My English was very limited so it was difficult."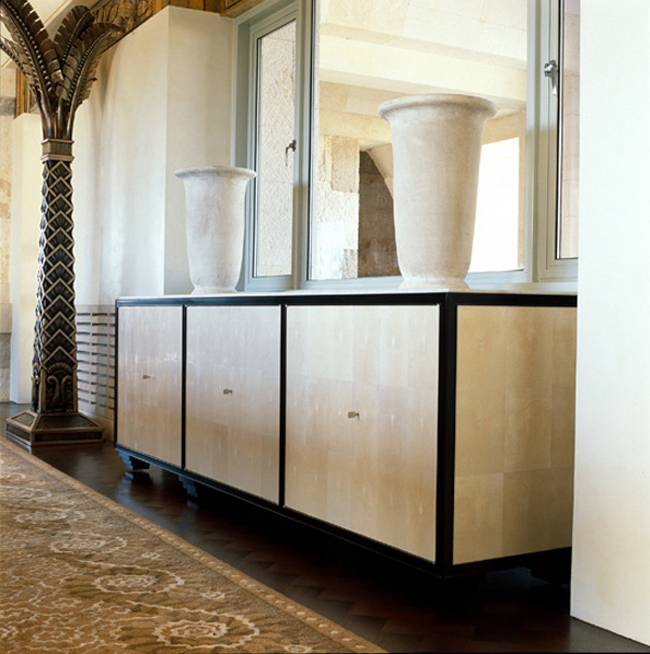 Above: Sideboard in Shagreen & Macassar Ebony designed by Jean-Paul Viollet
The French word for stingray skin is galuchat, for example. In America, they call it shagreen.
"One thing led to another," Viollet explains. "You know, you meet a person who says, ˜Oh, go here, go there.' That's how it happened. It was a much slower process than it is now. But people were much more open here than they were in Europe. They were not afraid to send you to a competitor. They'd say, ˜Go there, maybe they will have it.' "
Once he discovered the material he was looking for, though, Viollet still had to figure out how to use it. It took years of experimentation to master the materials, hour upon hour in his makeshift lab, playing with veneers, lacquers, and adhesives, to develop the expertise required to complete his designs. And yet, he holds fast to rule number one of the Art Deco movement: Form follows function. You won't find unnecessary ornamentation in Viollet's designs. "I try to be very minimalist," he says. "I try not to make a shape interesting just for the sake of it."
It's no surprise then that Viollet has developed a reverence for the materials he uses, one that includes a considerable respect for conservation. Instead of shell from endangered tortoises, he now uses horn. His shagreen comes from farm-raised stingrays. The veneers are collected from wood salvaged all over the world. "When you're dealing with natural materials, you don't want to waste anything," he says. "We should not take it for granted that we can keep using them."
Or, that we will always have people in this world who truly know how to do so.