He has always been drawn to aesthetics, to the awesome beauty of Mother Nature's handiwork, "noble materials" sourced from the farthest reaches of the globe. Mahogany, mica, mother of pearl: In his celebrated workshop in Brooklyn, he transforms these wonders into elegant works of art, which Departures magazine has described as "some of the finest Art Deco-inspired furniture in the world today."
For Jean-Paul Viollet, this is not simply a labor of love, it's a true calling. Raised in Seyssel, a picturesque village in the French Alps (not far from Geneva, Switzerland), he hails from a distinguished line of woodworkers. Seven generations in all. At the age of three, he could often be found on the rooftops of town, studying his cousins as they repaired the Old World gables and spires.
Before he was old enough to tie his shoes, he was working beside his father, grandfather, and uncle in the family shop. "Every day after school," he says, "I spent a couple of hours at the bench, fabricating toys or small objects, bothering the journeymen for nails, screws, or glue."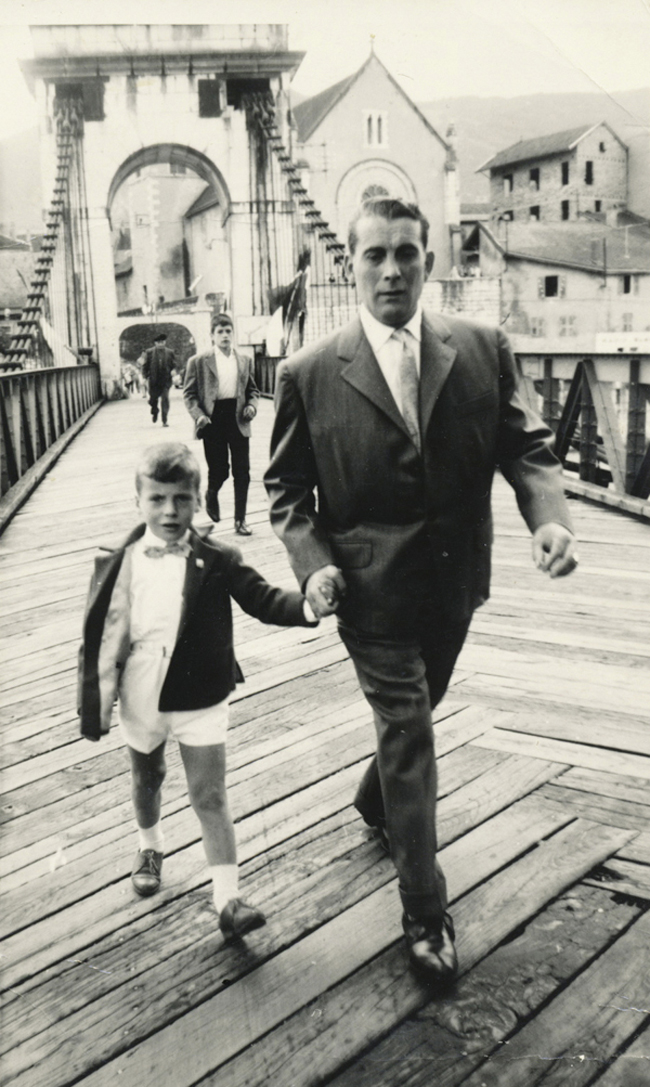 Above: Jean-Paul with his Father.
Today Viollet channels that passion into the meticulously crafted armoires, dining room tables, and sideboards that line his showroom. (His work can also be found in the homes of David Bowie, Steven Spielberg, and Robert DeNiro.) Finished in classic veneers and inlaid with intricate hand-cut marquetry, each piece requires dozens"if not hundreds"of hours to complete.
Inspired by the work of French masters such as Jacques-Emile Ruhlman and Jean-Michel Frank, Viollet takes the lofty visions of architects and interior designers and brings them to life. He draws on three decades' worth of experimentation and the vast archive of exotic materials in his storerooms, everything from pebbled shagreen (stingray skin) to lush parchment to rare woods salvaged from French Guyana, Cuba, and Indonesia. His wife, Sandrine, is the resident expert on straw marquetry. President Nicolas Sarkozy honored her in 2008 as "one of the best craftsmen in France."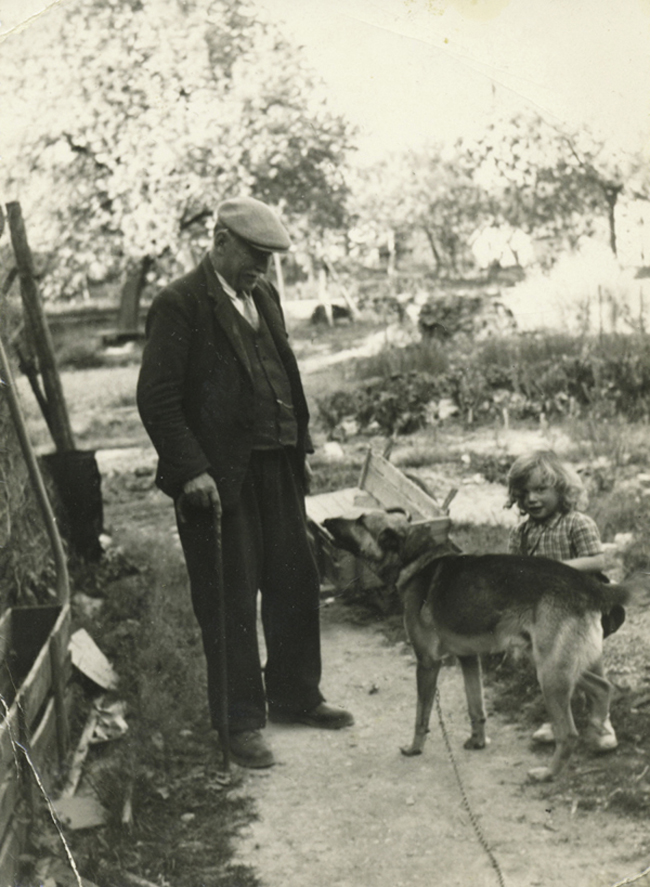 Above: Jean-Paul with his Grandfather.
At a glance, you can see the rich rewards of Viollet's efforts in the work that he produces. What you won't see are the flights of fancy spawned in the fertile imagination of their maverick creator, a man who came to America at age 23. Who hitchhiked from Alaska to Cape Horn for adventure. Who arrived in New York for the first time with eight dollars in his pocket and parlayed that money into a thriving, state-of-the-art workshop in Brooklyn, a contemporary outpost of the family business founded 150 years earlier.
"A piece of furniture must be functional," he says. "That's rule number one. I try not to be fancy or ornamental. I try to get to the point. And for me, that point is the association between function and materials."
To attempt anything else would be a mistake, an insult to his legacy, to the integrity of the great masters who came before him. And Jean-Paul Viollet is far too wise to do that.