Thomas Edison had one. Einstein, too. If you're the sort of guy who likes to experiment, you need a lab. Jean-Paul Viollet is fortunate to have one just a few steps from his desk. It sits behind an unmarked door in the office of his Brooklyn shop. Step inside and you will find a magnificent assortment of curiosities: measuring scales, bundles of shagreen, crisp white sheets of parchment, slivers of straw, a saddle from Tibet, and cabinets filled with stains of every imaginable color.
"It's a very intimate and personal space where I can reconnect with the materials," he says. "It's where I do all my research."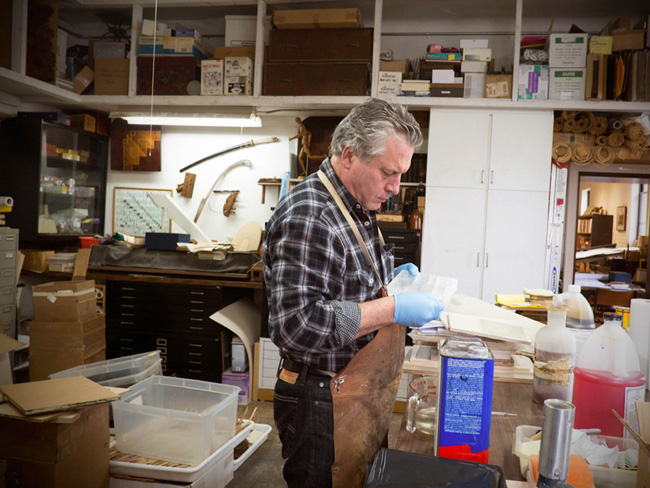 Inspired by the great works of Art Deco he saw displayed in the galleries of New York in the early 1980s, Viollet set out to create his own line of furniture. He had a wealth of woodworking skills, but no real experience in taming the natural wonders employed by the movement's masters. How does one stain stingray skin? What's the ideal way to bond mica to a wooden tabletop? Which glues hold up best in extreme heat or humidity?
These aren't the sorts of questions you can answer at the local library.
"I do have books that list some formulas," Viollet says. "Unfortunately, the ingredients in those formulas may be 100 years old. You can't find them anymore."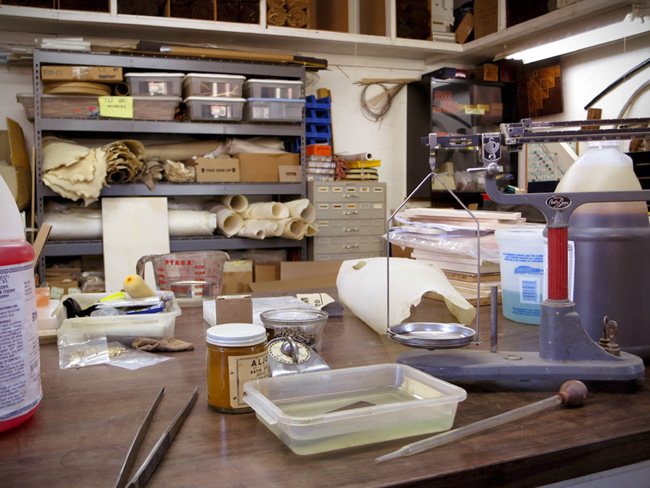 And so, the artisan spent countless hours exploring the possibilities. Through painstaking effort, trial and error, Viollet developed techniques of his own. Even when he succeeded, he sometimes found that the maddening shifts in New York City's climate conspired to undo his work. In time, though, he became an expert in epoxy and rabbit skin glue.
He learned which adhesives work best on horn, shagreen and mica. And he discovered how to bleach parchment and stain the straw for the world-renowned marquetry that graces the items in his showroom.
These days, it's not uncommon to find designers from New York, California and Texas lined up at his door in search of that expertise: the modern techniques, the old world craftsmanship, the ability to create furnishings of just the right size in just the right shade. With his hard-earned wisdom, Viollet has less call for experimentation. But, just like the tinkerers who came before him, he relishes the hours he spends behind that door. "I'm kind of a loner," he says. "Everybody works differently. Me, I like peace. I function better that way."