It's a marvel to behold, a sleek black cabinet expertly crafted from Swiss pear wood and stained a deep, dark ebony" like the keys on a grand piano. That's not what makes it special, though. Cast your eyes instead on the pearly panels that cover the doors. They're carved from a soft sulfate mineral known as gypsum.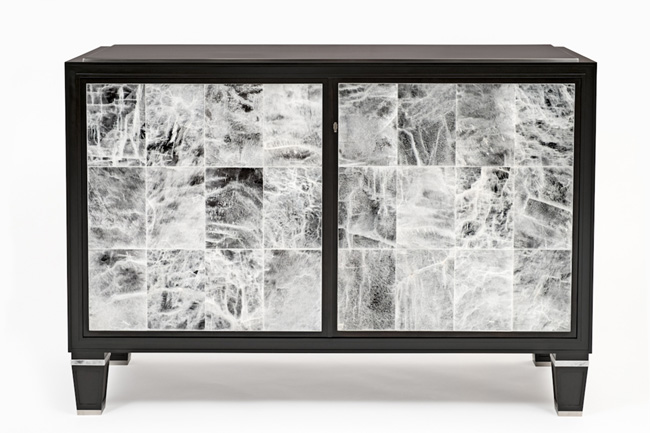 It's not what you'd call a precious stone. In fact, it's commonly used in the manufacture of wallboard, fertilizer, even some foods. The ancient Egyptians ground gypsum into a powder to make the mortar for their pyramids. After the great London fire of 1666, the King of France insisted that it be applied on wooden walls as a flame retardant. (Hence Plaster of Paris.) And in the years that followed, the translucent mineral has acquired magical powers. One of the more powerful crystals in the New Age movement, it's hailed as an antidote to negative energy. None of that inspired Jean-Paul Viollet to use gypsum in his latest creation, however. No, he was drawn to it because of his profound admiration for Jean-Michel Frank.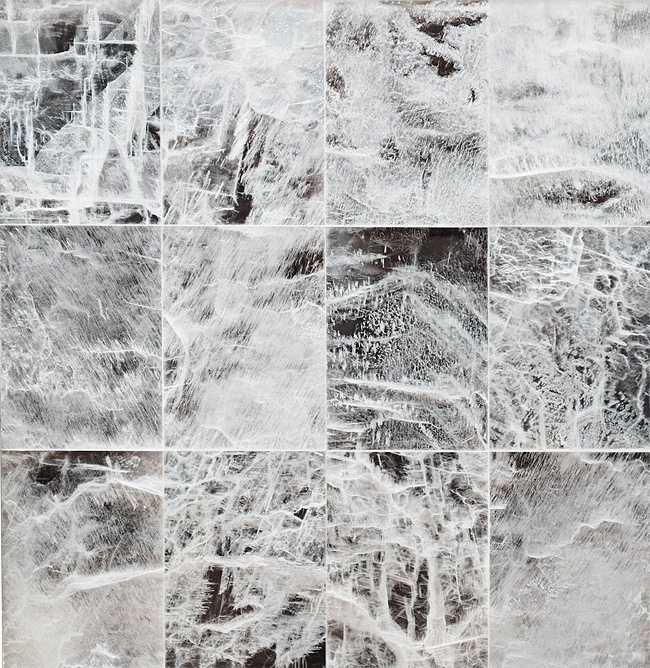 "I am not by any means trying to compare myself to him," he says, "because he was a genius. But as a craftsman, I've always been impressed by his choice of materials."
Born in Paris in 1895, Frank grew up to become "the most influential designer of the 1930s," according to Architectural Digest. He moved from Paris to Argentina to New York City, drawing not only artists, actors, and authors to his client list, but also Rockefellers. His work"often photographed by Man Ray"was heralded worldwide. At least one of Frank's works"a bronze cabinet that appears on the front cover of a 400-page tribute to the designer that was published by Rizzoli Books and authored by the art historian Pierre-Emmanuel Martin-Vivier"featured panels made of gypsum.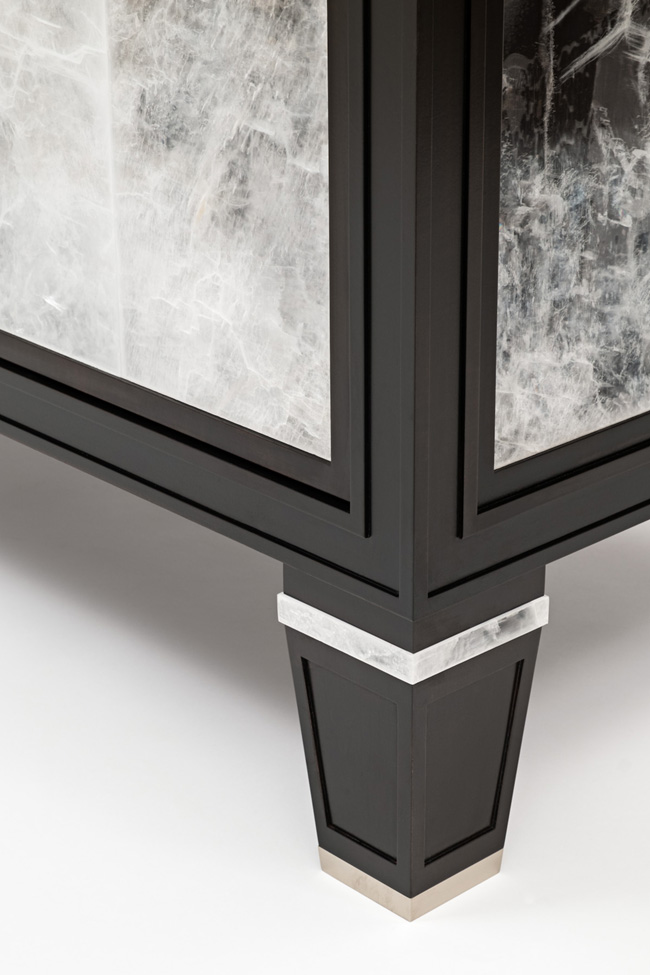 That cabinet was the inspiration for Viollet's new masterpiece. Years ago, the Brooklyn furniture maker ordered a few samples of gypsum with the hope of incorporating the material into one of his own designs. But one thing led to another and the project was postponed. And then, not long ago, Atelier Viollet received a few inquiries regarding gypsum. Clearly, it was time for a revival. And so began the six-month challenge of learning how to utilize the material.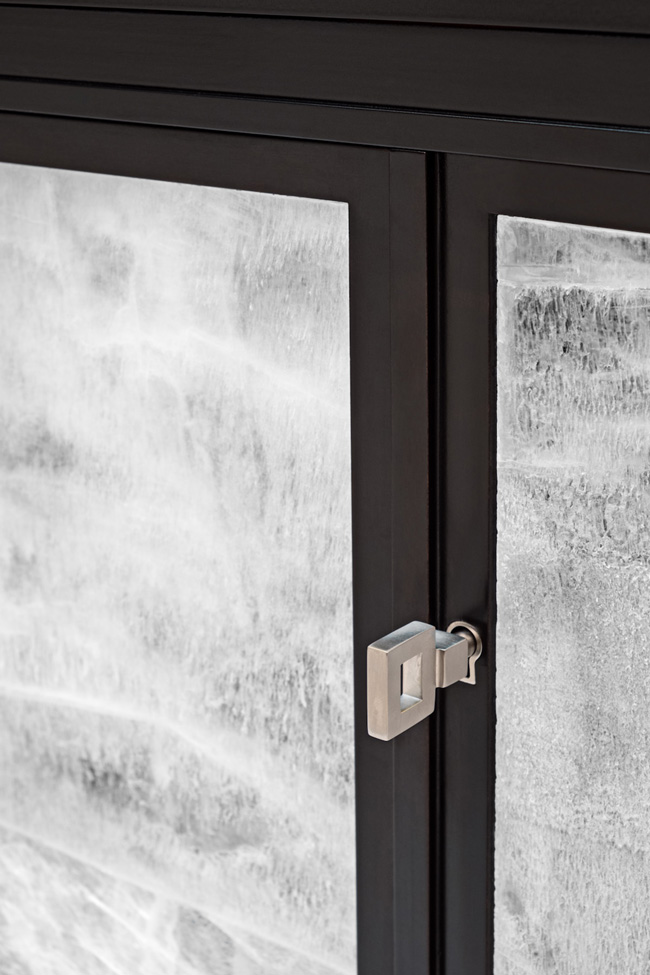 Gypsum is not hard to locate. It's mined on every continent in the world. But the unique texture"the enchanting faults and alluring striations"varies significantly from one quarry to the next. After reviewing a number of samples"some from as far away as Morocco"Viollet settled on a supplier here in the U.S.
His next trial? Figuring out how to process the multi-layered stone. The gypsum arrived in Brooklyn in great big slabs. The Atelier Viollet team had to learn how to slice it into thin veneers. After many hours and countless saw blades, the team moved on to testing the effectiveness of myriad adhesives. They had to find a way to firmly bond the stone to a wood substrate, a way that would stand up to all sorts of variables involving temperature shifts and moisture in the air.
When at last they saw the fruits of their labor, they could not help but be entranced by gypsum's seductive charm. "We are amazed at the visual projection, the luminosity," says Jean-Paul Viollet. "It's a very talkative material. It conveys a lot of life."
Seated now in his lab, he reaches out to pick up a piece of alabaster, gypsum's more celebrated cousin. "It's much more quiet, more subdued," he says.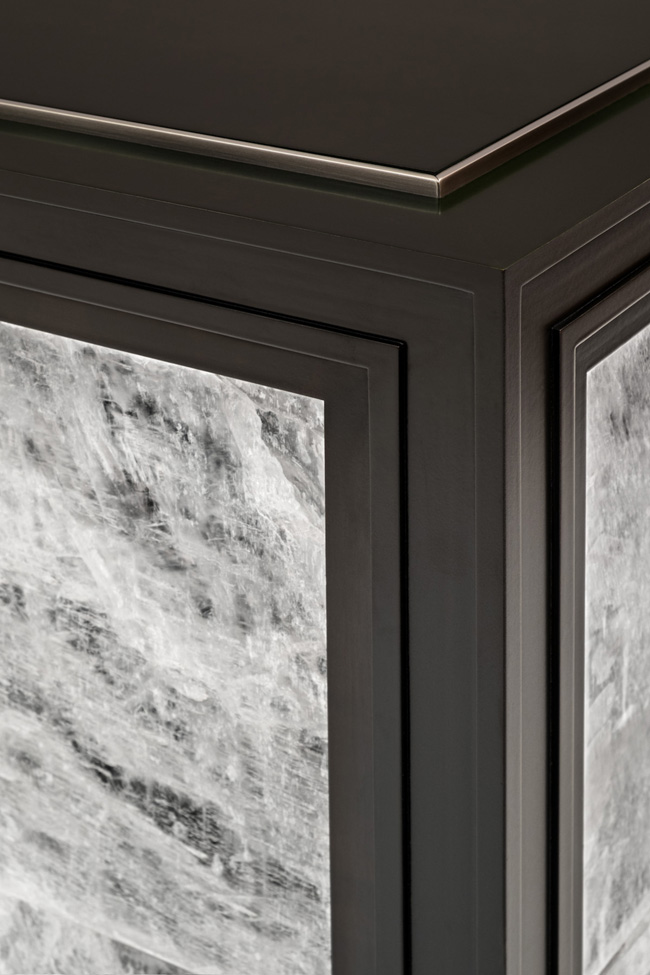 And so, with this cabinet, Viollet has accomplished what he set out to do. He has created a thing of rare beauty while mastering the use of yet another material.
In the end, it seems, Jean-Michel Frank's dance with gypsum was all too fleeting. Was it because the material was hard to find? Was it because it was difficult to process? "I don't know," Viollet replies. Perhaps it was because Frank died too soon. In 1941, at age 46, he committed suicide. It's unclear if he ever had a chance to try his hand at gypsum again after making that one cabinet in 1938. But Viollet certainly will. He already has an order for two bedside tables made of gypsum and bronze.