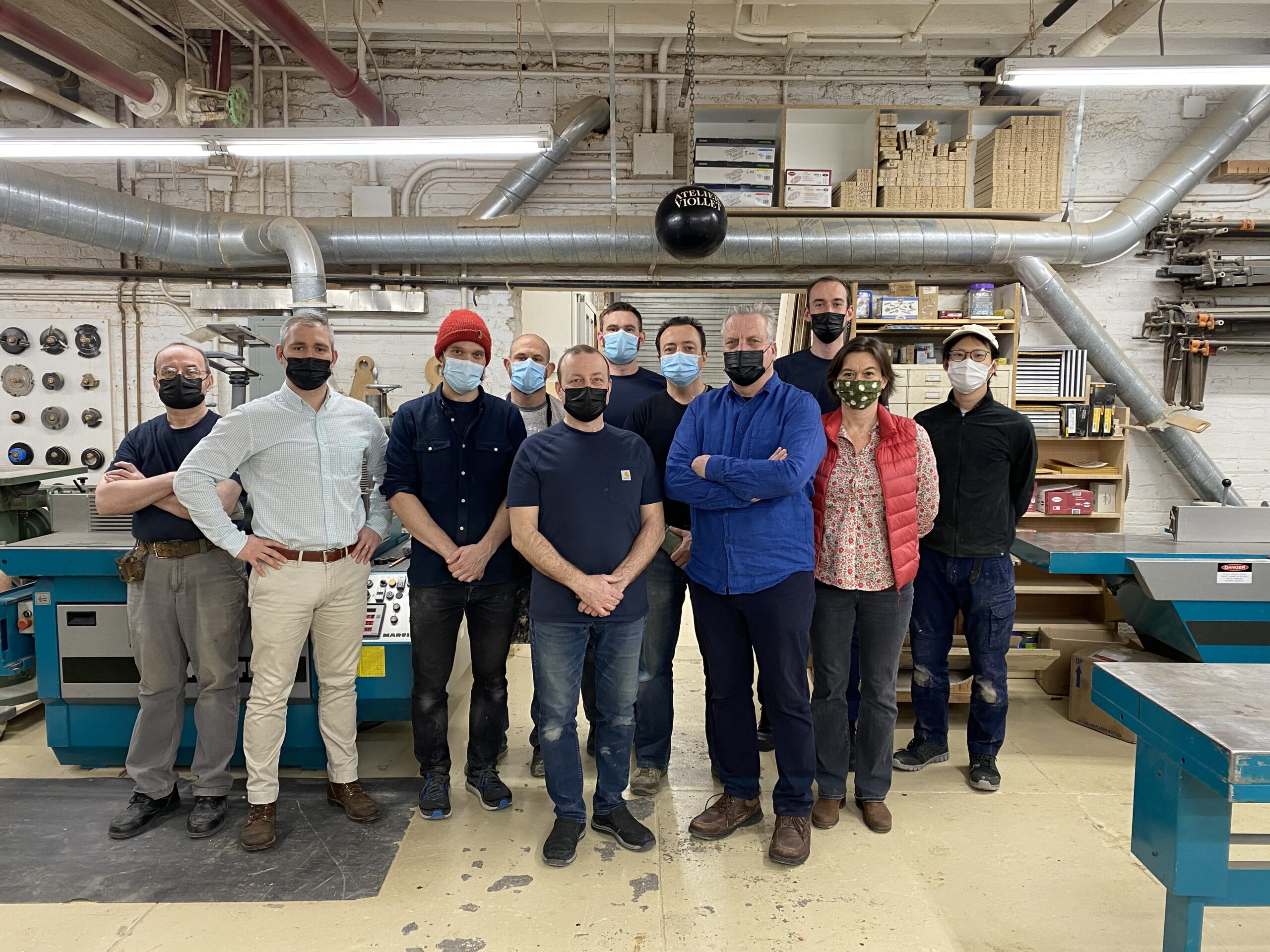 This March, Atelier Viollet celebrates its 30th anniversary at its current Williamsburg location. Prior to his 1991 move-in, Jean-Paul Viollet operated out of smaller workshops to realize his early designs. In our 25th anniversary post, we tracked Jean-Paul's professional trajectory, highlighting his family's longstanding history with fine woodworking and cabinetry over several centuries in alpine France. Having now lived in America for over forty years, Jean-Paul Viollet has dedicated his entire career to actualizing his designs and artistic visions.
Since its foundation, the atelier has expanded the breadth of our work from traditional pieces of furniture (tables, desks, armoires) in various exotic wood veneers and skins, to more elaborate pieces, full interior spaces, and an even greater range of craftsmanship (straw marquetry, lacquer, etc.) In paying attention to both exterior aesthetics and internal compositions, we intend to design furniture that lasts a century, not a season. We have experimented with different finishes, colors, and modes of fabrication to produce the most sophisticated designs possible for our clients. Nothing is off the table.
The atelier has balanced honoring past masters of Art Deco (Jean-Michel Frank, Charlotte Perriand, Eugène Printz, to name a few) while also carving out a unique style of its own. Once named "The Dean of Deco", Jean-Paul has paid homage to his predecessors in their style and attention to detail, all the while contributing a flair of his own.
The atelier is quite proud of the scores of impressive pieces fabricated throughout the years. The 2012 Seyssel Collection, a tribute to Jean-Paul's hometown, emphasizes the wide range of material and technique offered by our team of highly skilled craftsmen and women. Gypsum's natural beauty and character has been a recent atelier favorite for both furniture and interiors. The Carlsbad Cabinet, a particularly popular piece, marries the mineral's electric character with the more subdued palmwood frame. The cabinets and sideboards seen below are just a starting point in the workshop's endless creations.
Tools have changed hands over the years, but the atelier's spirit has persevered. A majority of the atelier team have been working here for a decade or more and are integral to the workshop's continued endurance. Their energetic curiosity, fortitude, and relentless desire to experiment has propelled the workshop to where it is today. The dedicated team is the workshop's foundation, contributing to its successes past, present, and future. Fueled by both tradition and innovation, the workshop continuously seeks to produce a wide-ranging body of elegant work.
We would also like to extend a very warm thank you to all of our clients that have supported and trusted us over the years. We have had the privilege of creating wonderful projects for beautiful spaces around the country and the world. This trust has allowed us to flex our creative muscles, experiment with new designs or finishes, and gave us room to truly flourish the extent of our capabilities. Through our countless collaborations, we have cemented a knowledge of our materials and techniques, all the while striving for innovation and experimentation.
Following this tumultuous year, we are delighted and fortunate to mark such a significant milestone. We are equally pleased to find ourselves busier than ever with exciting projects that continue to challenge and reward us. As always, we are continuously grateful for the support and collaboration of our clients, vendors, colleagues, family, and friends. Thank you.